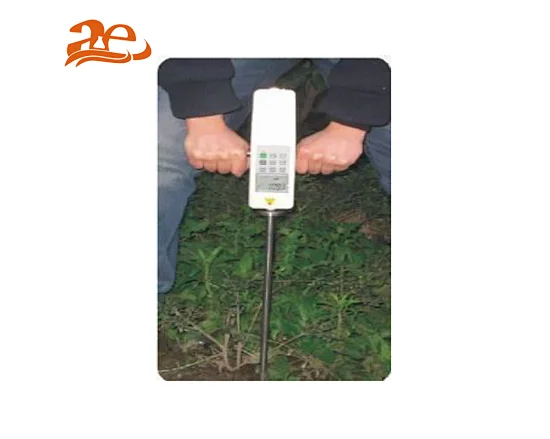 AELAB Portable Soil Hardness Tester TYD-2
+High accuracy and high resolution: large screen LCD display, with backlight function (backlight for night use), inverted reverse function of numbers on the screen 
+Battery capacity display: divide into 3,2and1 grids. If battery capacity is too low, the instrument will shut down automatically
Portable Soil Hardness Tester TYD-2
Functional features
+High accuracy and high resolution: large screen LCD display, with backlight function
(backlight for night use), inverted reverse function of numbers on the screen 
+Battery capacity display: divide into 3,2and1 grids. If battery capacity is too low, the
instrument will shut down automatically 
+Gravity acceleration setting function: users can input the exact value of gravity
acceleration of testing site to make the test more precise 
+Peak value maintaining function: maintain the peak value display until zero adjustment
manually 
+Automatic peak function: maintain displaying the peak values for 2S before automatic
elimination 
+Large memory storage function: can store 896 measuring values. 
+Data output function, data can be imported to the computer for various analyses 
+Auto-off time setting: 10min-90 min automatic shutdown can be set. 
+High quality charging power: 100-240v of charging voltage can be available
Technical Parameter
Maximum load: 100Kg (Kg and N can be switched automatically).

Resolution: 0.1Kg.

Accuracy:±0.5%.

Measuring depth: 0~400mm.

Power, charging power supply: 220V/AC, Continuous operating time of battery,6~8 hours

Stability, temperature drift: 0.2uV/°C(0-60°C),Null drift,≤0.1%/8 hours /FS

Calibration range: full-scale calibration.

Ambient temperature: 0~ 60°C.

Ambient humidity: ≤80%.

Allowable overload: 150%.

Power supply mode: 5 nickel cyanogens battery /220V AC charge 4~6hour.
Related Products
Soil Nutrient Analyzer/Soil Acidometer/Soil Salt Meter/Soil Moisture Meter/Soil Compaction Meter
#
soil hardness tester
#portable digital hardness tester
#portable brinell hardness tester
#digital portable hardness tester
#portable rockwell hardness tester