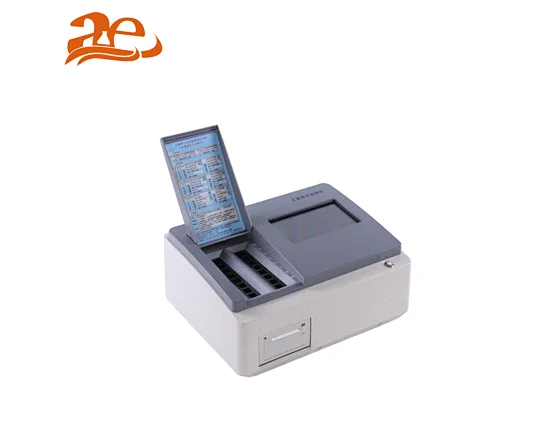 AELAB Multiple-Channels Soil Nutrient Analyzer TPY-8A/16A
+Quickly test the N, P, K, organic matter, salinity, and pH, soil moisture in soil.
+Salinity sensor is Non - glass electrode solid sensor, buried into soil and read directly.
+Multiple channels which is able to test 8 or 16 or 1 sample at same time.
+7inch color touch screen, Android system, on-line upgrade
Multiple-Channels Soil Nutrient Analyzer
TPY-8A/16A
Characteristics
+Quickly test the N, P, K, organic matter, salinity, and pH, soil moisture in soil.
+
Salinity sensor is Non - glass electrode solid sensor, buried into soil and read
directly.
+Multiple channels which is able to test 8 or 16 or 1 sample at same
time.
+7inch color touch screen, Android system, on-line upgrade
+With the function of time display, can automatically record and store
testing time
+Store about 1000 groups' data. Data can be checked at any time.
+With clock chip, time can be displayed in year, month, day, hour and
second.
+GPS Function included.
+Built-in data logger, all test value be stored automatically and never
lost.
+Be able to print the data like test date, sample No, items, sample
content, variety etc.
+Be able to set crop variety, crop yield, fertilizer variety, and
automatically count the fertilizing amount.
+Data can be transmitted via Wi-Fi to Computer.
+According to the local situation, to set the crop variety, productivity,
fertilizer variety. And then calculate the fertilizing amount
automatically.
+Built-in large capacity rechargeable battery, both AC and DC are available.
+Able to connect others sensors such as air temperature, humidity, soil temperature and
moisture, CO2, PAR and Light etc. (optional)
Specification
1 Soil Nutrient technical parameter
1.1 Stability: Absorbency of light drift<0.003
1.2 Repeatability: Absorbency of light<0.005
1.3 Linearity errors: red light for Copper sulfate, and blue light forpotassium bichromate
<3.0%
1.4 Sensitivity: Red light≥4.5x0-5 
Blue light≥3.17×10-3
1.5 Wavelength range: Red light 620±5nm; Blue light440±5nm
1.6 Anti-Knocking performance: qualified
2. pH technical parameter
Testing range: 1-14
Error: ±0.1
3. Salinity technical parameter
Testing range: 0.01% -1.00%
Error: ±5%
4. Soil moisture technical parameter:
Moisture unit: % (m³/m³)
Accuracy: ±2%
Moisture content rate testing range: 0-100%