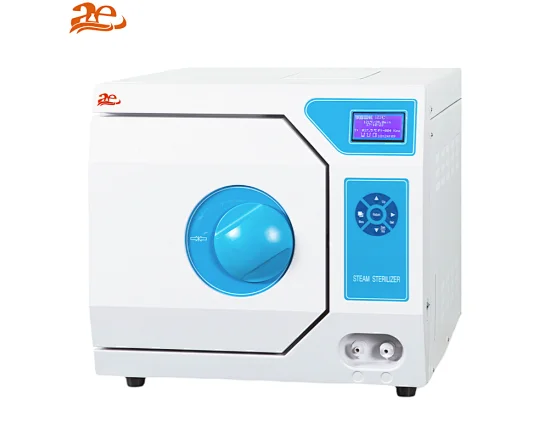 AELAB A Series Table Top Steam Sterilizer Class N
+ Quality stainless steel inner tank, sealed cover
+ Microcomputer control automatic cycle, 121 ℃ and 134 ℃ set arbitrary
+ Safety interlocking device
+ Touch buttons
+ Equipped with standard test interface
+ Open type top water tank
+ European CLASS N standard.
+ Sterilization end buzzer reminder, automatic stop
+ Automatic discharge of cold air,automatic exhaust steam after sterilization.
+ Built-in steam generator to provide saturated steam quickly
+The container has automatic protection function: over temperature protection, over voltage protection, low water level protection, anti dry burning
AE-SS8A AE-SS12A AE-SS16A AE-SS18A AE-SS23A
AELAB A Series Table Top Steam Sterilizer Class N
This sterilizer is a fast sterilization desktop equipment with Safe and reliable automatic control program . Using the European
CLASS B standard. It is the most sophisticated and economical medical Equipment to sterilize solids, It has beautiful
Appearance
.
Full compliance with EN13060 European standards, with high performance, high reliability, safety of three pulse
pre-vacuum s terilizer It's suitable for Health care center,pharmaceutical companies and Research institutes etc.
Providing sterilization for surgical dental ophthalmic instruments, glassware
,
chemical
,
culture media
,
fabric accessories,
food and so on which is tolerance Saturated vapor action goods.
Features:
+ Quality stainless steel inner tank, sealed cover 
+ Microcomputer control automatic cycle, 121 ℃ and 134 ℃ set arbitrary 
+ Safety interlocking device 
+ Touch buttons 
+ Equipped with standard test interface 
+ Open type top water tank 
+ European CLASS N standard. 
+ Sterilization end buzzer reminder, automatic stop 
+ Automatic discharge of cold air,automatic exhaust steam after sterilization. 
+ Built-in steam generator to provide saturated steam quickly 
+The container has automatic protection function: over temperature protection, over voltage protection, low water level protection, anti dry burning
Technical Specifications:



Model




Volume

Consumed




power




Power

Working




pressure

Working




temperature




Cavity size




weight

AE-SS8A

8L

1500W





110 220V




60Hz/50Hz






0.22MPa





134℃

φ170×360

32

AE-SS12A

12L

1800W

φ200×385

43

AE-SS16A

16L

1800W

φ230×390

44

AE-SS18A

18L

2200W

φ250×370

48

AE-SS23A

23L

2200W

φ250×470

53