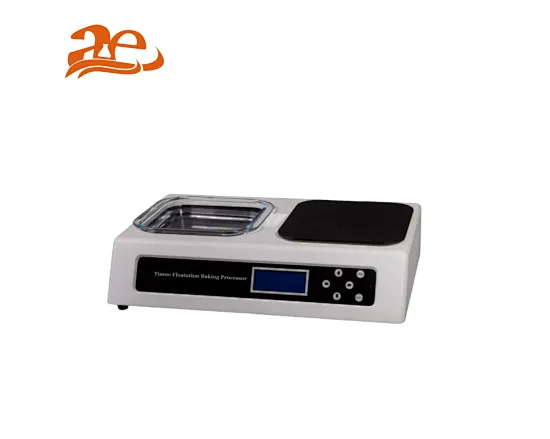 Tissue Floatation and Baking Processor AE-AB
Tissue Floatation and Baking Processor AE-AB
Specification information :
Feature:
+Adopted high technology and Touching Screen Control,new type of heating material to ensure Small volume and light weight.
+It contains bath and baking processor and independent heat power without any affect each other .
+Automatic memorization and recover the last setting temperature stored to start when the power start again.
+If the power is switched off suddenly, the machine can go on work and correct mistake automatically when the power switch on again.
+H
igh-tech control system make it precision in temperature and rapid heating and baking slice.
+Special material with strong resistance to abrasion and corrosion
Technical specification:
+Water Temperature for spreading: indoor temperature-90℃(maximum) adjustable and automatically thermostatic
+Temperature for roasting: indoor temperarure-90℃(maximum) adjustable and automatically
+Memory function: Automatically retain set temperature after operating.
+Capacity of water bath :2.5L
+Capacity of Slide dryer : 40pcs Microscope Slides
+Power voltage:AC110-220V±10%50HZ/60Hz
+Environment temperature: 0~40℃
+size of floatation bath plate: 30×24×6.5cm  10kg
+size of baking plate: 28×24×2cm   10kg
Standard Accessory
1Power Wire
2 pcs Fuse
#baking processor
#floatation
#Baking Processor
#floatation
#automatic tissue processor
#floatation
#tissue dyeing processor
#floatation