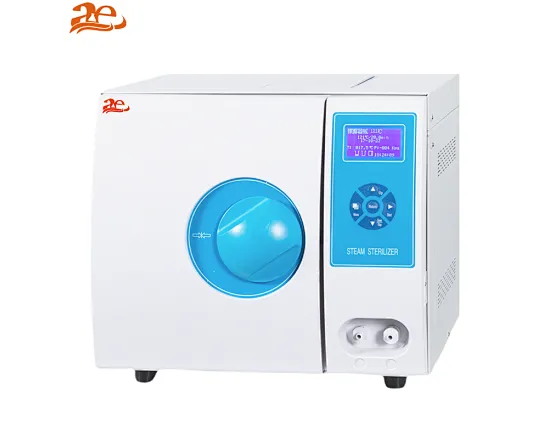 AELAB B Series Table Top Steam Sterilizer Class B
+ Quality stainless steel liner, sealed cover
+ Microcomputer control
+ Safety interlocking device
+ With BD test: HELIX TEST, Vacuum test.
+ LED display and touch type button
+ With standard test interface
+ Open type top water tank
+ European CLASS B standard.
+ Three times per-vacuum
+ Sterilization end buzzer reminder, automatic stop
+ Automatic discharge of cold air,automatic exhaust steam after sterilization.
+ Built-in steam generator to provide saturated steam quickly
+ The container has automatic protection function: over temperature protection, over voltage protection, low water level protection, anti dry burning, and safety door lock
AE-SS8B AE-SS12B AE-SS16B AE-SS18B AE-SS23B
AELAB B Series Table Top Steam Sterilizer Class B
This sterilizer is a fast sterilization desktop equipment with Safe and reliable automatic control program . Using the European CLASS B standard. It is the most sophisticated and economical medical Equipment to sterilize solids, It has beautiful Appearance.

Full compliance with EN13060 European standards, with high performance, high reliability, safety of three pulse pre-vacuum s terilizer It's suitable for Health care center,pharmaceutical companies and Research institutes etc. Providing sterilization for surgical dental ophthalmic instruments, glassware,chemical,culture media,fabric accessories, food and so on which is tolerance Saturated vapor action goods.

Features:
+ Quality stainless steel liner, sealed cover 
+ Microcomputer control 
+ Safety interlocking device 
+ With BD test: HELIX TEST, Vacuum test. 
+ LED display and touch type button 
+ With standard test interface 
+ Open type top water tank 
+ European CLASS B standard. 
+ Three times per-vacuum 
+ Sterilization end buzzer reminder, automatic stop 
+ Automatic discharge of cold air,automatic exhaust steam after sterilization. 
+ Built-in steam generator to provide saturated steam quickly 
+ The container has automatic protection function: over temperature protection, over voltage protection, low water level protection, anti dry burning, and safety door lock.
Technical Specifications:
Model

Volume

Consumed




power

Power

Working




pressure

Working




temperature

Cavity size

weight

AE-SS8B

8L

1500W




110 220V




60Hz/50Hz





0.22MPa





134℃

φ170×360

35

AE-SS12B

12L

1800W

φ200×385

46

AE-SS16B

16L

1800W

φ230×390

47

AE-SS18B

18L

2200W

φ250×370

52

AE-SS23B

23L

2200W

φ250×470

58
#autoclave sterilizer class b
#autoclave class b sterilizer
#table top steam sterilizer