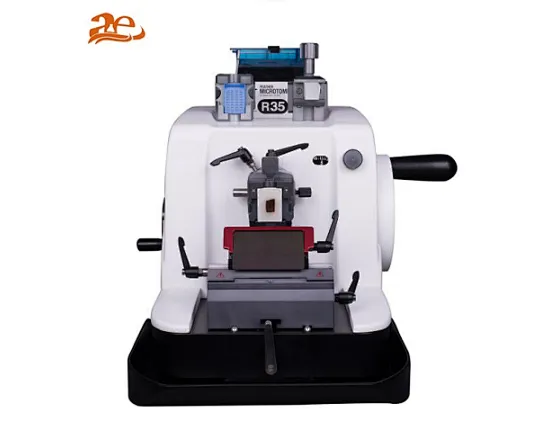 AELAB Rotary Microtome AE-315
Product specifications :
key components such as guide rail ,screw mandrel, Ratchet rod are import from Japan. The Rotary microtome
AE-
315  is ideal for most routine histology, biological and industrial needs. High precision & stability ensures exact reproducible section quality in wax and plastic embedded sections.
Product specifications :
+High precision specimen feed
+Universal cassette clamp and standard specimen clamp
+The hand wheel can be locked in any position or highest position , The dual fail-safe control system is safe and reliable
+It adopt the special blade carrier , it is more safe and convenient to use the disposable blade directly . good durability and long service life, optional blade carrier can use steel knife or blade holder .
+Two type of upper part blade holder can use both of low profile blade and high profile blade
+Smoothly running hand wheel
+Spacious, integrated section waste tray
Technical Data:
• Section thickness range: 0- 60μm
 Setting values : From 0-2μm in 0.5μm –increments
              From 2-10μm in 1μm-increments
              From 10-20 μm in 2μm-increments
              From 20-60μm in 5μm-increments
• Horizontal specimen stroke :28 mm
• Vertical specimen stroke : 60mm
• Precision error: ± 5%
• Sample orientation:8°along the X-Y-axis, rotable 360°
• Maximum section size: 50 × 45mm
• Dimensions incl. tray (L/T/H):30cm(L)X46cm(W)X29cm(H)
• Net weight:30kg
Standard Accessory
2 types Clamp
1 Blade Carrier (for disposable blade )
1 Waste Tray
4 pcs Tissue Molds
50pcs Cassettes
Optional Accessory
Blade Carrier(for Blade holder or Steel knife)
Blade Holder
Microtome Disposable Blade
Steel Knife