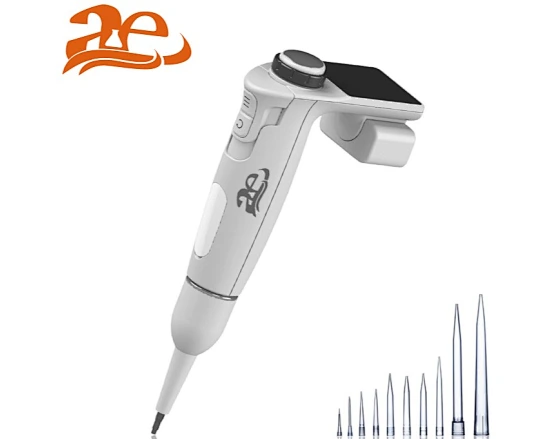 AELAB Single Channel Electronic Pipette
+ Wide volume range 0.1ul~10,000ul
+ With complex menu but switch easily
+ 6 Preprograms (self programing available)
+ Extreme accuracy. INternal auto-calibration
+ Ergonmic design, exquisite and light, comfortable grasping
AE-EP10000 , AE-EP0010 , AE-EP0300
AELAB Single Channel Electronic Pipette

+ Wide volume range 0.1ul~10,000ul
+ With complex menu but switch easily
+ 6 Preprograms (self programing available)
+ Extreme accuracy. INternal auto-calibration
+ Ergonmic design, exquisite and light, comfortable graspingMain features :
1. 15 kinds of different pipetting mode combination: Forward pipetting, reverse pipetting, sub-sample pipetting, mixing pipetting (same sample), manual pipetting, sample mixing pipetting (different sample), unequal volume pipetting, gel loading pipetting. To meets various of pipetting demand, suitable for ordinary liquid, volatile liquid, easy-foaming liquid, high viscosity liquid and other liquid.
2. Different pipetting speed: 1-5 scale of loading speed, 0-5 scale of ejecting speed, 0 scale is the slowest speed which meet special demand.
3. USB charging port with external lithium battery.
4. Autoclavable:The bottom part can be dismantled easily, autoclavable on 121℃, 1 bar for 20 minutes. And the whole pipette can be sterilized by UV light.
5. 304 stainless steel piston and tips mouth with high abrasion resistance.
6. Control the piston by linear stepping motor.
7. Pipetting speed is adjustable while working.
8. For 8 channel pipette, only need to purchase upper part from us to update your manual pipette
Technical Specifications:
Model

Volumn

Increment

Volume (µl)

Systematic Error

Random Error

+/-µl

+/-%

+/-µl

 +/-%

AE-EP003

0.1-3ul




0.05ul

0.3




1.5




3

0.03




0.036




0.039

10




2.4




1.3

0.018




0.024




0.024

6




1.6




0.8

AE-EP0010

0.2-10ul




0.1µl


 

1




5




10

0.025




0.075




0.1

2.5




1.5




1

0.015




0.035




0.04

1.5




0.7




0.4

AE-EP0020

0.5-20ul




0.1ul


 

2




10




20

0.15




0.15




0.2

7.5




7.5




1

0.04




0.05




0.06

2




0.5




0.3

AE-EP0100

2-100ul




0.5ul

10




50




100

0.2




0.4




0.6

2




0.8




0.6

0.1




0.15




0.15

1




0.3




0.15

AE-EP0200

5-200ul




0.5

µl

20




100




200

0.5




0.8




1.5

2.5




0.8




0.75

0.2




0.25




0.4

1




0.25




0.2

AE-EP0300

10-300ul




1ul

30




150




300

0.75




1.05




1.2

2.5




0.7




0.4

0.24




0.3




0.45

0.8




0.2




0.15

AE-EP0500

10-500ul




2ul

50




250




500

0.8




1.2




2

1.6




0.48




0.4

0.35




0.6




0.8

0.7




0.24




0.16

AE-EP1000

50-1000ul




1

µl


 

100




500




1000

2




2.5




4

2




0.5




0.4

0.6




1




1.5

0.6




0.2




0.15

AE-EP5000

0.1-5ml




10

µl


 

500




2500




5000

5




1

2.5




30

1




0.

5




0.

6

2

.5




5




10

0.

5




0.

2




0.

2

AE-EP10000

1-10ml




100ul

1000




5000




10000

50




50




60

5.0




1.0




0.6

6




10




16

0.6




0.2




0.16




Single Channel Pipette for Polymerase chain reaction (PCR)




(Note: This Series pipette is more suitable for Polymerase chain reaction and molecular experiment)




AE-EP10P




0.2-10ul




0.1µl


 

1




5




10

0.025




0.06




0.08

2.5




1.2




0.8

0.95




0.02




0.025

1.5




0.4




0.25




AE-EP200P




5-200ul




1µl

20




100




200

0.5




0.6




1.2

2.5




0.6




0.6

0.15




0.2




0.3

0.75




0.2




0.15




AE-EP1000P




50-1000ul




5µl


 

100




500




1000

1.5




1.2




2.5

1.5




0.24




0.25

0.5




0.8




1

0.5




0.16




1