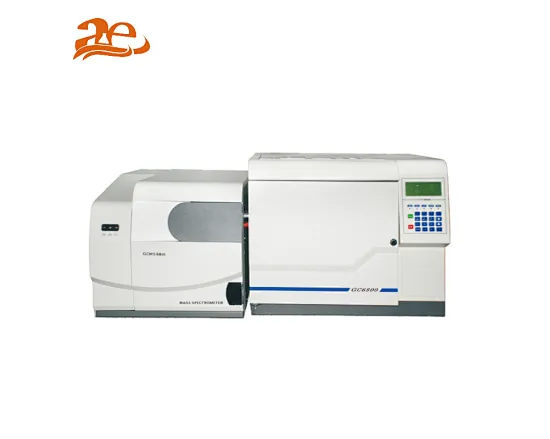 AELAB GC-MS 6800 Gas Chromatograph-Mass Spectrometer
+High performance, high reliability
+Low cost for customers of all types
+Holding multiple patents
GC-MS 6800
 Gas Chromatograph
-
Mass Spectrometer
+High performance, high reliability
+Low cost for customers of all types
+Holding multiple patents
Gas Chromatograph
---
Mass Spectrometer
GC Specifications

Inlet temperature

Max. 450°C

Pressure range

0^100psi,±0. 002psi

Pressure control mode

Electronic pressure control (EPC),

s

upport CV

a

nd CC

Split mode

Split/splitless, max. split ratio: 1000:1

Column oven working temperature

Room temperature+4°C

~

450°C

Heating rate

Up to 120°C/min

Temperature programming

7 stages/ 8 platforms

Auto Sampler

Optional

MS Specifications

El

 

source ionization energy

5W

〜

250

e

V (Adjustable)

Mass range

1.5~1

00

0amu

Resolution

Unit resolution (full width at half maximu

m

)

Ion source temperature

100

〜

3500

Filament emission current

0-350

u

A

GC-MS Interface temperature

Max. 450°C

Stability

±0.10

a

mu/48 hrs

Sensitivity

Full scan, 1 pg OFN at m/z 272 with S/N

≥

30:1 (RMS)

Scan rate

Up

 

to

 1000

amu/

s

Vacuum

Turbo molecular pump(67L/s)

Detector

High energy dynode electron multiplier
GC-MS 6800
Gas Chromatograph Mass Spectrometer
GC-MS 6800 is a cost-effective gas chromatograph mass spectrometer. The products hold several patented technologies, and are widely used in industrial inspection, food hygiene, environmental protection, etc.
Current Customers:
+Industrial inspection: textile, electricity & electronics, plastic cement, cosmetics
+Food hygiene: pesticide residues, flavors and fragrances
+Environmental protection: air, water, soil, solid waste
+Pharmaceutical: pharmaceutical industries, drug inspection
+Petrochemical: oil refineries, chemical plants
+Public security organ: explosives, forensic evidence
Highlights:
Hardware
+Electronic pressure/flow control system (EPC/EFC) for self-developed GC 6800 system
+Patented El filament set provides highly efficient electron emission, a maximum of 350u A
+Quality mass analyzer with pre-filter reduces quadrupole pollution
+High-energy dynode electron multiplier ensures good sensitivity
+Vacuum system with quality mechanical and turbo molecular pumps guarantees stability and reliability
+Full scale gauges monitor vacuum states in real time
+Self protection system guarantees safety of operators and core parts under abnormal conditions
+RF power supply digital compensation technology ensures better sensitivity and resolution in full mass range
Software
+The software **ChemAnalyst"controls auto sampler (AS), gas chromatograph (GC) and mass spectrometer (MS); data are acquired and transferred by high-speed network card
+Full Scan and selective Ion Monitoring (SIM) modes are available
+The system supports manual and automatic tuning, display of total ion current (TIC) and mass chromatogram (MC)
+It
 is the only legal distributor authorized by NIST/EPA/NIH in China mainland, which guarantees the latest version and free online up grade of NIST (current version NIST 2011)
+The data processing section searches target compounds in NIST 2011 based on mass spectra of samples,displays search results which include retention times, structural formula and standard mass
spectra, and compares the abundances of standard and real target ions. Users can make accurate qualitative and quantitative analyses
Features:
Superior quality:
 it uses high-end core parts, which ensures GC-MS 6800 high quality
Meeting high demands:
It
provides necessity parts, and meets multiple requirements from clients in different fields
.
User-friendly design:
 it facilitates easy operation and convenient maintenance
High-efficiency ionization source:
modularization design,
we
patented ion source, having high ionization efficiency, and enhancing sensitivity
ChemAnalyst software:
 convenient operation, data acquisition and processing
Highly cost-effective:
offering more benefits while meeting all application demands
Scientific solutions:
we offer customers perfectly customized solutions
Consumables with favorable price:
most consumables and parts are self-developed, which save a lot of maintenance cost, while providing high performance
Satisfactory post-sale service:
we
makes a quick response to client's demands, with professional technicians offering 24-hour services
A Comparison of
AELAB
GC-MS and Competitors' GC-MS:
AELAB

 GC-MS

Competitors' GC・MS

Highly cost-effective

Expensive

Favorable price, low maintenance cost

Imported consumables, high maintenance cost

Rapid service response, professional technicians offering 24-hour service

Slow service response, normally more than a week
Application:
Brominated flame-retardant (BFR), volatile organic compounds (VOCs), polycyclic aromatic hydrocarbons (RAHs), phthalate, etc.
Laws and Regulations:
REACH is a European Union regulation concerning the Registration, Evaluation, Authorization and restriction of Chemicals, which includes all substances and goods imported into EU except those are clearly exempted.
RoHS directive refers to the rules on the restriction of the use of certain hazardous substances in electrical and electronic equipment; it specifies the maximal limitation of six hazardous substances explicitly, with product range almost covering all electronics, electrical appliance, medical products, communication products, toy, security products, etc.
#spectrometer metals
#infrared spectrometer
 #8 spectrometer